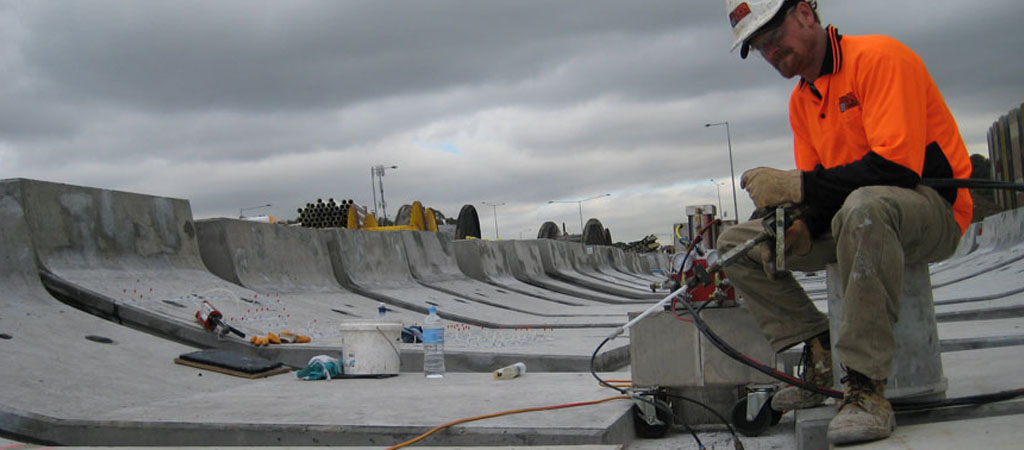 Epoxy Injection Crack Repair Services
RCW is proud to be a trusted provider of epoxy crack injection in Melbourne. We use the best purpose-built concrete crack filler equipment and epoxy resins in the industry that surpass all other types of crack injection systems. Countless Melbourne businesses turn to RCW for epoxy resin concrete crack repair work of the highest standard.
We offer low viscosity epoxy injection concrete crack repair as our most recommended repair method, using state-of-the-art epoxy injection crack repair equipment to ensure that any cracks are repaired according to specific requirements.
Expert Epoxy Crack Injection in Melbourne
Epoxy injection crack repair work is usually done on horizontal, vertical and overhead cracks whenever more basic repair procedures are more difficult and cost prohibitive. Before our experts commence the epoxy injection concrete crack repair, they'll assess the cracks to determine what caused them and decide if any structural repair work is required.
If the crack in the floor or wall doesn't impact structural integrity, our team member will inject the structure with polyurethane grout or another non-structural material that might be more suitable.
For instances where structural repair work is needed, the issues that caused the cracks must be fixed before we proceed with the necessary epoxy concrete repair. If the structural crack is damp and there's no way for it to be dried out, our expert will use a moisture tolerant resin. On the other hand, if the crack is non-structural, we will use a low viscosity polyurethane hydrophilic resin to get the desired result.
Epoxies are available in a variety of viscosities, including ultra-thin and paste-like epoxies that are used to fix cracks of different widths. The main benefit of epoxy crack repair over other crack repair methods is that epoxy has high compressive strength, making epoxy crack injection in Melbourne the preferred option for completing structural crack repair jobs.
What Concrete Crack Filler Work is Commonly Performed On:
Bridges
Reservoirs
Roads
Tunnels
Floor and post tension slabs
Other load baring concrete assets
Learn More Today
If you've noticed widening cracks at your commercial or industrial premises that need to be fixed sooner rather than later, call RCW on (03) 9318 0221 for reliable epoxy injection concrete crack repair services in Melbourne.