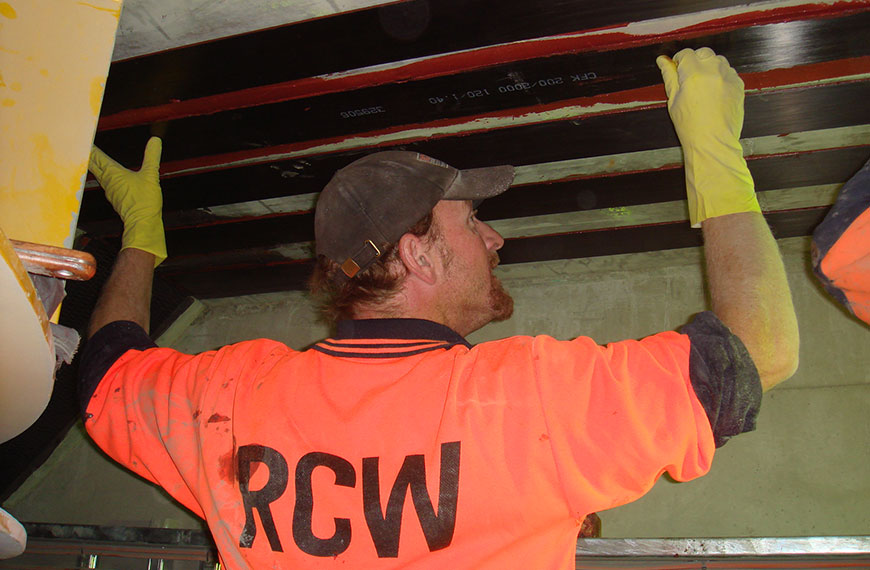 Carbon Fibre Concrete Repair Services in Melbourne
The performance characteristics of carbon fibre reinforcement strips are renowned throughout the concreting industry. They're ideal for use with construction and retrofit applications, especially with ageing, damaged or overloaded concrete structures.
Reinforced carbon contains carbon fibre reinforced graphite that's used structurally for high-temperature applications. This fibre can also be used in the filtration of high-temperature gases, as an electrode with high surface area and high corrosion resistance, or as an anti-static part. Casting a thin layer of carbon fibres considerably improves the fire resistance properties of polymers or thermoset composites, as having a thick and compact layer of carbon fibres will reflect heat.
Carbon fibre reinforcement work is carried out in instances where a concrete structure is in need of an upgraded load bearing capacity. This can be achieved by using carbon fibre reinforcement strips made for structural strengthening purposes as part of a strengthening system.
Carbon fibre reinforcement strips are a high performance and strength enhancing product that's superior to steel in regards to strength to mass ratio. The strips are light, easy to install, and provide an ideal solution for concrete structures that require additional strengthening.
Structural strengthening work can only be performed by certified and experienced specialists. The expert contractors at RCW are qualified to install carbon fibre reinforcement strips in concrete structures.
The Benefits of Carbon Fibre Reinforcement
Easy installation
Short construction timeframe – can be done within 24 hours depending on the weather
Low installation cost compared to other methods
Lightweight
Huge tensile capacity – stronger than steel
Corrosion resistant
No maintenance needed
Can be placed onto a structure's external surfaces without the risk of rusting
Minimal mess, waste or disruption to operations
Locations Where Carbon Fibre Is Used
Civil buildings
Bridges
Slabs
Tunnels
Piers/wharfs
Airports
Highways
Railways
Suspended and post tensioned structures
Floor and soffit penetrations
Key Characteristics of Carbon Fibre Reinforcement Strips
High strength
Lightweight
Easy to install
Easy to check after construction
Eco-friendly
High fatigue and alkali resistance
Reasons Why Carbon Fibre is Used
Increase in load
Seismic reinforcement
To improve the structural state
Structural parts have incurred damage
Structural function has changed
To correct any mistakes made during the design or construction stages
Contact Us Today
Does your structure require carbon fibre reinforcement or carbon fibre concrete repair work? Contact the carbon fibre technicians at RCW by calling 1800 729 729.